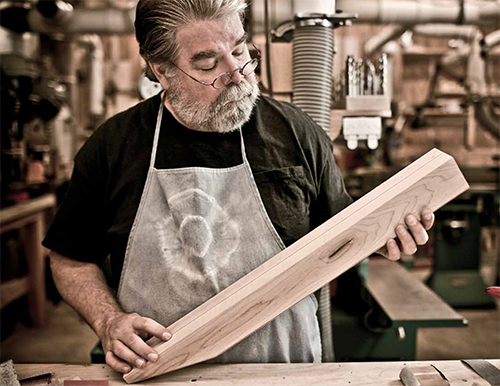 Chuck Lee was tired of waiting for his banjo. In the mid-1990s, Lee, a plumber since high school, did a job for a music store that paid him with instruments, which he gave out to his seven kids. But he kept the banjo for himself. Now he wanted to learn old-time music's "clawhammer" style of playing and therefore had ordered an open-back banjo, as the style required.
After two years the banjo still hadn't shown up; Lee was fed up, but also inspired. He told his wife he had a great idea for a retirement business: building open-back banjos.
"She said, 'Great,'" Lee recalls now. "I said, 'No, you're not listening. I want to redo the plumbing shop in the back right now.' She said, 'That's a good idea.' I said, 'No, you're not listening. I said I want to take our retirement and buy tools to build banjos.' She said, 'No, you're not listening. Do it.'"
In 2002 he did just that, creating the Chuck Lee Banjo Company. The first year, Lee produced three banjos. Having recently completed his six hundredth banjo, Lee now only builds banjos that are ordered and paid for.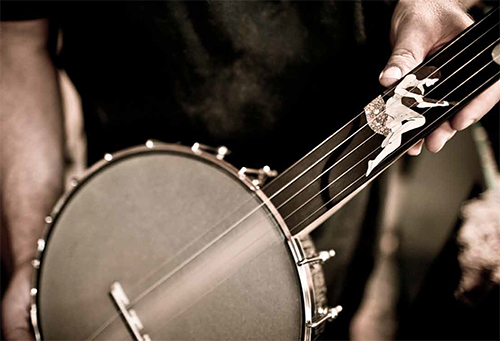 Lee is able to connect with his customers in a way he never had in his previous career. That is in part because of the joy he sees in the musicians who benefit from his self-taught craftsmanship. When he started the company, he hadn't done any serious woodworking in two decades, and even then it was only furniture. So he purchased "the only book then" on how to build a banjo and made his tools by hand. He then began the nose-to-the-grindstone process of teaching himself.
The most important part to Lee was testing and reworking his banjos until they had the deep sound he was seeking. He realized that banjo making was a much more exact process than plumbing. In banjo making, being off even one-sixteenth of an inch greatly affects the instrument. Now Lee has the process down. It begins with extensive interviewing of the client so Lee feels he completely understands what's desired. He gets started right away, as he keeps enough maple, cherry, and walnut on hand at all times. All the woodworking is done in the shop, and the metal parts are made as close to his Ovilla, Texas, home as possible. (The ebony and pearl come from overseas.)
It takes three to four months for a Lee banjo to be completed—a lot depends on the climate, particularly the humidity of the season, as it can easily warp the wood if precautions aren't in place.
Then Lee plays each banjo until he determines it's ready for the customer.
And it's that personal connection to each customer's story that gives Lee his satisfaction. Like the woman who recently lost a young daughter and took up playing the banjo as part of her mourning. Her joy with the banjo got her twin sister playing. Then her husband. Her father took up the piano. And now they get together every week to play music.
"I heard that," Lee says, "and said, 'Yeah, that's why I did this. That's why I'm doing this.'"
And that original open back he ordered? "The banjo was never made, as far as I know."