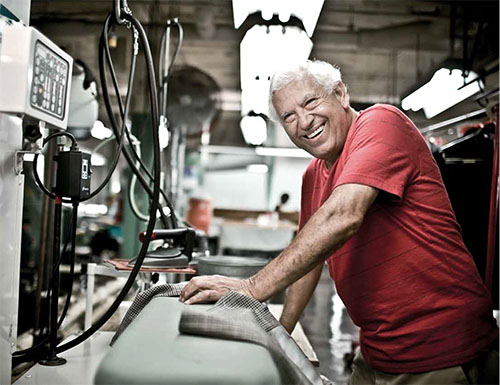 By the time Don Deisch got the call from the CEO of Oxxford Clothes in 2007, he'd seen just about everything there was to see in the world of men's custom suits. From the time he'd taken his first tailoring course in high school to working in a custom clothing house cutting room as a teenager to nearly three decades in men's retail, Deisch knew the industry like he knew a finely stitched lapel.
So there was little hesitation when he was offered a career at Oxxford, the last factory in the United States that was still tailoring custom suits by hand. He'd loved Oxxford's clothes since he first encountered them in 1992 as a salesman.
Five years later Deisch is now Oxxford COO, and he's seen the ninety-seven-year-old clothier adapt to a more demanding, better-informed marketplace. Buthe has seen no change in the exquisite craftsmanship in Oxxford suits.
"To see firsthand the level of detail that goes into an Oxxford suit is incredible," Deisch says. He has been in plants that produce a suit coat in three or four hours. That's not the case at Oxxford, where they recheck every pattern before it's cut, use "one-directional" lays on cloth (which uses more fabric),match the inseams to the sleeves, hand-sew with precision the tape and lapel padding, and construct the armholes so they move with you—it all creates a custom feel that can't be replicated by machines.
It used to be that everyone bought his suit off the rack, an average pattern for an average frame. Even when a ready-to-wear suit is altered, the tailor is limited in what can be done. For older gentlemen, this meant that the typical changes the body goes through—head forward, shoulders more rounded—would not be reflected in the suit jacket's fit.
Because of this, and because the Internet has made customers more knowledgeable about the benefits of custom tailoring, and because costs can be better controlled by waiting to make a suit to custom order, more retailers are selling custom-made. This put time pressure on Oxxford, which used to require eight weeks to finish a custom suit.
"There were companies producing well-made suits in two or three weeks," Deisch says. "So the biggest pressure on our business has been to make things faster. It turns out you can save time without taking the quality out."
Oxxford was able to save time on the front end by keeping a steady supply of fabrics available and by doing tasks concurrently. What was once a step-by-step process now happens simultaneously, meaning a world-class suit can be produced in just five weeks.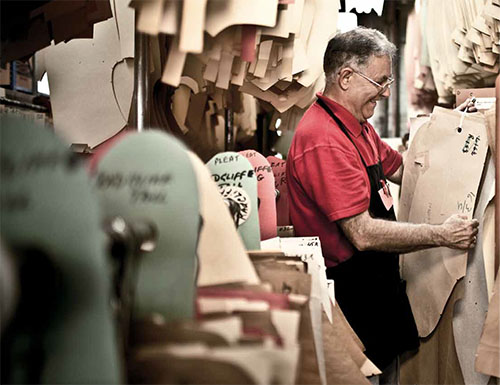 The process itself can't change; it's too integral to the quality. The cutting and bundling, the pressing stations (by machine and by hand), the tough-eyed examiners and the quality control stations—none of that has changed. It's essential to the exultation one feels when slipping on an Oxxford for the first time. "It's like wearing nothing, it molds to you, like fine custom shoes," Deisch says. "It falls right into your body."