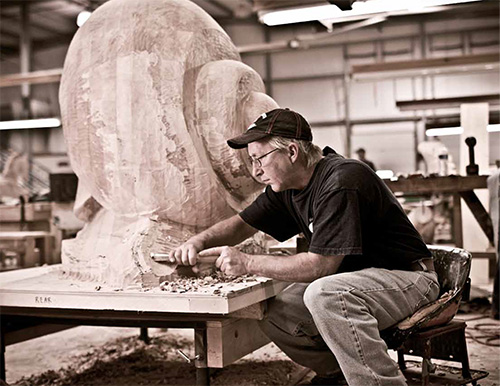 Art Ritchie realized that he would one day build the country's best carousels. It came simply because he did the math.
By happenstance, Ritchie, who had been carving professionally since 1973, struck up a conversation with a man who had just purchased an antique carousel (cost: $450,000). The man told Ritchie he planned to restore it ($400,000), then have it shipped and installed ($150,000). When Ritchie asked what a new fiberglass carousel cost ($250,000), he saw it all laid out. "A quarter million or a million dollars…That was a big gap to slide into."
He slid into it headfirst. In 1986 he and his partner, Daniel Jones, opened The Carousel Works to design, build, and install custom-made carousels. The goal was to take a carousel from the customer's rough sketch vision to a spinning work of public art.
Ritchie and Jones spent their first few years restoring antique carousels, an expense that zoo and park managers felt comfortable green-lighting. This allowed them to reverse engineer the classic carousels, many of which had been built in the carousel's heyday of the early 1900s. They determined which mechanisms stood the test of time, which treatments led to disrepair, which areas of construction could be bettered with new technology.
For example, antique carousels often lost five to ten legs a year. Ritchie took note during his restorations, challenging himself to solve this problem when someone finally took a chance on a from scratch carousel.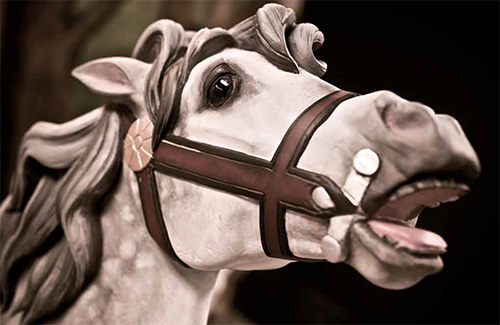 That was in 1991, when Ritchie and his team built their first carousel for a carousel park in the company's own town of Mansfield, Ohio. Soon after, he built the carousel that helped his business bloom—a ride for the zoo in Fort Wayne, Indiana.
Building a brand-new carousel for a zoo was an important step. Zoos are not cutthroat competitors. They share best practices, and if an innovation works at one zoo, other zoos will follow suit. The director in Fort Wayne was worried, knowing that he was taking a chance by commissioning a new carousel.
His worry vanished when the Fort Wayne director's granddaughter took a ride on the carousel's Malaysian tapir, a type of pig with a short prehensile snout. At another zoo, his granddaughter spied a tapir and couldn't stop sharing the facts she had learned from Ritchie about the animal's coloring—the director was sold.
Other zoos followed Fort Wayne's lead. Ritchie has put carousels in twenty-eight zoos around the country, including his first solar-powered carousel in the Smithsonian National Zoo. Featuring sixty-four animals found on-site—everything from a cuttlefish to a naked mole rat—it's a striking example of carousel artistry. The manufacturing process is a delicate mix of old- and new-school techniques. Up to twenty-two people, in a 2,400-square-foot space, work on two to three carousels at a time—in the frame shop, the machine shop, the carpentry shop. The skills are time honored ones: carving, painting, fitting, inspecting. But the design work comes from a process both handmade and cutting-edge, taking sketches and turning them into 3D digital models that can be examined before production is complete.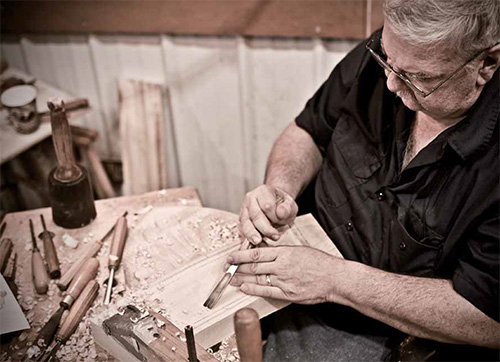 But Ritchie reminds himself that sometimes he just has to keep it simple. For example: How does he test the construction of the legs and tails? (Rather than losing five to ten a year, Ritchie's carousels haven't lost five legs total since he began.)
Simple. He takes them to the batting cages and "goes nuts" on them with a Louisville Slugger.