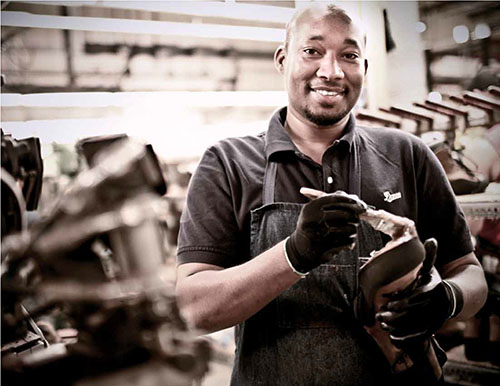 By the time a Danner boot is completed, more than a hundred hands have touched it. However, it all begins with selecting the hide. All the work is for naught if the hide doesn't speak to that very first pair of hands. "Every hide is a puzzle," says Danner creative director Haven Anderson. "It's our job to figure out the pattern."
Many manufacturers test every fifth or tenth hide, but at Danner each piece is inspected using seven criteria before a pair of hands rubs, bends, and pulls at it to find the perfect pattern. Once a live person determines which part of the hide is best for which part of the boot—harder leather for the toe, softer for the tongue—a pattern is cut.
The decades of fingers probing—of hands speaking to each piece of leather—is reflected in the crevices in each worker's hands. You can see it in those who do the stitching—the lines around the knuckles deepen as they carefully steer a portion of the boot across the needle's stitch to ensure handmade quality with clean lines. The result is the envy of any machine.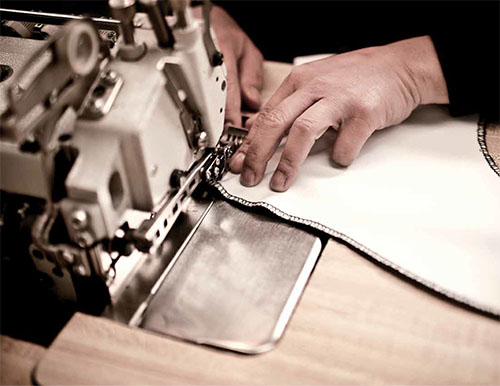 You can see it on all one hundred hands: those who clean up, brand, stitch the liner, attach the midsole and the outsole, trim, and finish. "It's a commitment to quality that has led us everywhere we've been as a company," Anderson says. It's what convinced Charles Danner in 1936 to move his four-year-old boot-making business from Wisconsin to Portland, Oregon. He believed the logging industry would pay for the high-grade, durable, water-resistant boots he was producing.
In the 1970s, as hiking became more popular, Danner knew that people would pay for the same waterproofing and durability that loggers in the Pacific Northwest required. In the 1980s, law enforcement officers and US soldiers approached the company, requesting work boots that offered the same mix of lightweight strength and comfort that they knew from their Danner boots at home. The military took notice and eventually contracted with Danner to outfit soldiers of all stripes—especially once they began regular operations in new-terrain areas like Afghanistan.
Danner has grown into a model of how to combine the craftsmanship of skilled artisans with the efficiencies of a worldwide business. Yes, they've gone from taking a week to make a pair of boots to less than a day. But they also "re-craft" every boot possible, as many customers ship their worn Danners to the company to be revitalized; it's a time-consuming process but one that strengthens the bond between company and customer.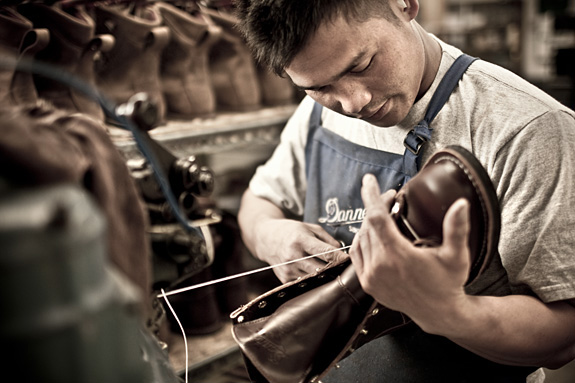 As more consumers across the country search for local flavor and authenticity, "we've seen the US flag on the outside of our boots as something people really wanted," Anderson says. "There's a lot of loyalty and dedication to the product, a real connection the consumer has to our product. People want durable goods. Society doesn't want disposable. That's an important part of our story."
In fact, that pride is not just in their hands, or beaming from their face. They wear it on their feet. "Most of us own several pairs," Anderson says, laughing. "I have one pair I only put on to put up and take down my Christmas tree."